History of North Springfield
Caring for the Community Since 1956
In 1946, real estate developer Mr. Edward R. Carr anticipated the great need to provide home communities for the many families moving in the Washington suburbs after World War II who were taking up newly formed government jobs. He found, purchased and developed much of the land in the Springfield area.

Started in 1955, North Springfield was the second planned community in the area just behind Crestwood's Springfield.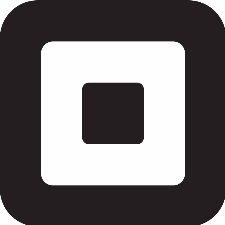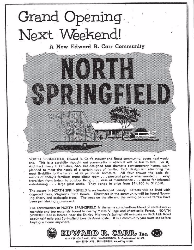 Above and right: 7514 Hamlet Street (Courtesy of Tom Sheffler). Flyer far right courtesy of local historian Robyn Carter.

Click photos to expand.
Today, the entire neighborhood is collectively known as North Springfield, but it's history is rich and has its roots in a much simpler time in Northern Virginia history. In 2015, NSCA embarked on a year-long celebration of NSCA's 60th anniversary from 2015-16. This was a rare opportunity to reflect on where NSCA began and how far it had come. During this reflection period, the NSCA board compiled a detailed timeline list of accomplishments and also drafted a white paper overview to explain the numerous contributions made to the community. You can also find several historical photos on our Facebook page.
North Springfield was developed in multiple phases. Oversimplified, they are:
North Springfield: This is the area owned by Mr. Carr and is roughly the Leesville area, Heming from Lake Accotink Park to Elgar and over to Ferndale.
Bonneywood: This is an extension of the North Springfield section with slightly more upscale homes covering the area around Easton Dr.
Leewood Estates: This is the detached area of North Springfield along Woodland Dr. that was developed not by Mr. Carr but by Sidney Weinberg & Sons. They were custom-built homes "for the family seeking the quiet luxury of a small estate for year round living in a setting of unsurpassed natural beauty" according to the sales ad. When this section was built it was an area all unto itself with no townhomes, churches, or funeral homes around. Because of its proximity to the rest of North Springfield, it was considered an extension of North Springfield and has always been part of NSCA. Several additional areas have been added over the years, including Woodland Way Estates and Granberry Way Estates. Each of these are served by North Springfield despite technically being governed by pro-forma HOAs.
"Heming Extended": While never given an official name since it was built in the 1980s (about 30 years after the rest of the neighborhood), it is the area along Heming past Lake Accotink Park.
Crestwood Park section of North Springfield (Ferndale entrance), May 1957.
Courtesy of Grace Genie McClellan.

Click photos to expand.
Crestwood Park: This is the area Mr. Carr sold to the Crestwood Corporation (who also developed Crestwood's Springfield at Backlick Rd. and Amherst Ave.). It is roughly Braddock Rd. to Chatham St. from Ferndale to Ravensworth.