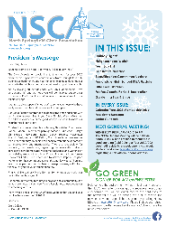 Caring for the Community Since 1956

NEXT GENERAL MEETING
Wednesday, April 13 @ 7:30 PM
LOCATION:
The NSCA General Meeting will be held on
Zoom. A link will be emailed to members in
good standing (paid Calendar Year 2021/2022
dues). All residents are welcome. If you would
like to attend, email Newsletter@NSCIVIC.org
requesting a link with your home address.
SPRUCE UP NORTH SPRINGFIELD
Join us for this neighborhood-wide event in celebration of Earth Day!
Saturday, April 23
Meet & Greet: 10:00 - 11:00 am @ North Springfield Swim Club
Neighborhood Spruce Up: 11:00 am - 2:00pm